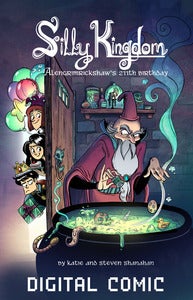 $

0.99
Self Published
36 pages black and white interior with a colour cover
Character sketchbook
Page process tutorial
Fantasy & humor
All ages
It's the grumpy old kingdom-wizard's 211th birthday. Normally this would be no big deal (as no one likes him), but THIS generation of young royals will change all that by throwing him a special surprise party. However, when the birthday boy discovers their plot, things take a turn for the explosive, in this fantasy-comedy suitable for all readers.
BONUS! Check out the "making of" bonus comic on our website: http://sillykingdom-comic.blogspot.com/p/bonus.html
~~~~~~~~~~~~~~~
Want to read the comic but hate waiting for shipping and getting papercuts? Then why not try the digital version! It's the exact same comic but rather than left-side right-side pages it's presented in a digital scroll down version.
Free PDF reading program: http://get.adobe.com/reader/
We've found the best setting for acrobat is 150% but use whichever looks best on your monitor, ipad, kobo or other e-readers!
If you have any questions or problems downloading the PDF please don't hesitate to contact us at sillykingdomcomic@gmail.com and we'll get back to you right away!
-----------------------------
PRAISE FOR "SILLY KINGDOM":
"Silly Kingdom features some of the best and most expressive cartooning I have seen in years, and the charming story is both sweet and hilarious. The Shanahans are simply brilliant!"
-Kazu Kibuishi ("Amulet", "Flight" comics, "Copper")
"I WANT THIS ON MY SHELF. Adorable, pitch-perfect art from Katie and a hilarious story from Shaggy—I could read this every day!!"
-Svetlana Chmakova
("Nightschool", "Dramacon")