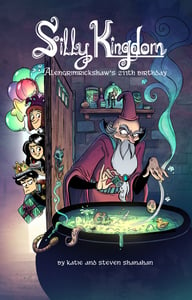 $

6.00
CUSTOMIZED: comes with a sketch and signature from the creators on the inside title page.
Let us know in the paypal order form if you'd like us to personalize this comic to you or that special someone!
If paypal doesn't let you do so please email us right after ordering at sillykingdomcomic@gmail.com
(If you DON'T want it personalized, just leave everything as is and we'll leave names out).
---------------------------
Self Published
40 pages black and white interior with a colour cover
Character sketchbook
Page process tutorial
Fantasy & humor
All ages
Silly Kingdom: Alengrimrickshaw's 211th Birthday
It's the Kingdom Wizard's 211th Birthday, and he'll do EVERYTHING in his power to stop the party, in this fantasy-comedy suitable for all readers.
Head on over to sillykingdom.com for bonus comics, fanart and updates on new chapters as they happen! :)
-----------------------------
PRAISE FOR "SILLY KINGDOM":
"Silly Kingdom features some of the best and most expressive cartooning I have seen in years, and the charming story is both sweet and hilarious. The Shanahans are simply brilliant!"
-Kazu Kibuishi ("Amulet")